What Doctors Say About Collagen
"I've been a chiropractor for the past 28 years and currently run a clinic that sees 200 people a day.
I'm so thrilled to expand my practice with a product that safely and naturally helps people.
I know I can recommend pure collagen and expect tremendous results for my patients."*
Dr. Bill Trusak, D.C.
"Dr. Edward Lafontaine says…
"There is nothing on the market like Collagen. I have been looking for a Collagen based product for over 20 years.
I have repeatedly asked manufacturers to formulate a product like Pure Collagen to no avail, until now.
This is the one fundamental nutrient I recommend to each and every patient."*
Dr. Sal Martingano who has been in practice for 17 years says…
"Have you ever considered how the body actually rebuilds itself? Well, thank God we are not responsible for duplicating that task because it would occupy 100% of our time. The mechanism and substance responsible for accomplishing that task within the body varies with age.
Collagen does its job by converting its natural protein molecules into the essential amino acids required by the body to build or rebuild body parts. In essence it's the maintenance juice of the body."*
"I have had the good fortune of monitoring over 300 patients over a one year period on the use of the product.
They included people with high blood pressure, arthritis and many more conditions.
Over that one year my patients averaged 85% of positive results.
Pure Collagen is very RELIABLE and SAFE!"*
Ron Darling,
Health Practitioner.
Chris Wilson, an orthopaedic consultant in Cardiff, says…
"A number of supplements, including collagen, appear to work. I have always had an open mind about alternative treatments. If a patient says he has pain relief and movement after taking collagen, I am perfectly prepared to believe it works.
With arthritic pain, I don't think mainstream medicine has all the answers, and I would encourage patients to try treatments such as collagen."*
Dr. Alex Duarte, O.D. Ph.D., Specialist In Arthritic Studies Says…

"We know that cartilage is composed of four or five different kinds of collagen.

Collagen type II contains Glucosamine sulphate which has over 30 years of double-blind, placebo-controlled studies indicating that it actually helps to rebuild the cartilage in arthritis joints."*



There are actually 14 different kinds of collagen altogether, but the primary collagen, the most predominant one, the most medicinal collagen, is collagen type II. (i.e Pure-Col)

Type II Pure Collagen has the ability to help heal and rebuild. There are no side effects in nature, only their intended effects. Pure collagen only has the positive intended effects on the body; rebuilding body parts. Nature best uses collagen during the alpha phase of sleep, therefore it would be wise to introduce collagen into the body just prior to sleep. In the final analysis, type 2 collagen has the building blocks for a stronger, leaner body.
Order Pure Col Collagen
We accept PayPal, Visa, Mastercard and Amex. Buy online 24/7 or call 0844 414 5268 Mon-Fri 10am-6pm.

pure col collagen with bio-active matrix
Manufactured To The Highest Standard G.M.P Procedure & FDA Regulations.
All Ingredients In Pure-Col Are Natural And Not Genetically Modified.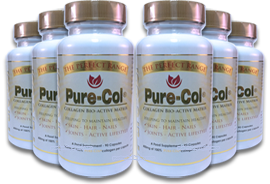 ✓ 400mg of pure-col collagen per capsule
✓ joints – active lifestyle
✓ skin – hair – nails
1 month £28.97 | 3 months £59.97 | 6 months £114.97