Pure Col Success Stories
John Miles Singer/Songwriter
"Being on the Pro-Celebrity golf circuit and always a keep fit enthusiast, I felt I had done irreversible damage to my knees.
When first approached about Pure-Col I was sceptical, but willing to give anything a try. I trialled the product for 6 months, when I then stopped taking them some of the pains came back, now I would not be without Pure-Col!
This is a revolutionary product , as a bonus I look and feel younger."*
John Miles.
"Being a Plumber for over 10 years started to take its toll on my joints, kneeling down everyday under sinks and putting most of my body weight on my left knee, left me with unbearable pain everyday and having to take maximum strength pain killers every few hours.
I thought there must be a better way to make the pain subside. Not to mention the damage the painkillers were doing to my body.
After taking Pure-col collagen the pain subsided within a few short weeks and I have never looked back."*
Daniel M. UK.
"I began the course of Collagen and within 2 weeks I was feeling more energetic and the pains I was experiencing in my hip prior were not bothering me any more.
I am a person that has never subscribed with tablets, but now I am determined to continue as I'm amazed with the results."*
C. Badinge.
"I have been the owner of The Cutting Crew Hair Salon for 15 years. I have taken the product myself for just over 2 months and cannot believe the difference. With every facial treatment we always recommend this product and have been very excited by the number of referrals we are now getting."*
Jenny. UK.
"I have been taking Pure Col Collagen for 6 months, my hair, nails and skin have improved greatly, I have stopped losing my hair and my fingernails are long and strong.
My skin feels very good and I look healthy.
Also I have found that any bruises I get fade very quickly, I don't know if that is anything to do with the collagen, but cuts heal quickly too."*
S. Davis.
"I first started using Pure-Col 2 years ago and the results were fantastic. I had been getting pain in my joints and slight swelling in my finger joints.
I am very active and didn't want to think that I may not be able to do certain activities.
After searching the internet and reading all the information available I decided to use Pure-Col.
The pain has gone and the swelling is non-existent plus the added benefit is my skin has improved so much that I have no fine lines that you would expect at my age (45).
I did make the mistake of swapping onto another brand recently and immediately could tell the difference so I am back and for good this time!*
Sally C. UK.
"I am a 73 year old female going to 74 in April. Some years ago I had surgery after a fall on my left knee. The cartilage was damaged and had to be removed. After the OP I complained that I had pain in my knee and my surgeon told me it would be like that for the rest of my life. In short – I had to live with the pain.
I searched the Internet and found Pure Col Collagen.
My father was an MD and I was very suspicious about what was offered on the Internet.
I have now taken PureColCollagen ever since the year 2010 and I can walk 12km every day.
There may be other products on the market, but I will stick to PureColCollagen because I know it works."*
Francesca O.
"I have been taking Pure-Col for 3 months now and I am truly delighted with the results.
I had a knee injury a few years back and because of that I can not do any workouts without a knee support.
But after taking Pure Col Collagen within 2 months I noticed that I can run and do any aerobic workout without a knee support and this is an unbelievable result. Also I feel more energetic and my general well-being has improved. I would recommend Pure-Col to everyone who wants to look and feel good.
Thank you very much for this product."*
Kathlyn S.
Existing Customer? Send us your success story!
Send us testimonial together with a picture of yourself explaining what you are using pure-col collagen to help you with. Whether it be for pains in joints, improving skin condition or with sports and how it has benefited you.
Allow us to show others, and we will send you a further 3 months for FREE as a token of our appreciation. (Existing customers only).
Order

Pure Col Collagen

We accept PayPal, Visa, Mastercard and Amex. Buy online 24/7 or call 0844 414 5268 Mon-Fri 10am-6pm.

pure col collagen with bio-active matrix
Manufactured To The Highest Standard G.M.P Procedure & FDA Regulations.
All Ingredients In Pure-Col Are Natural And Not Genetically Modified.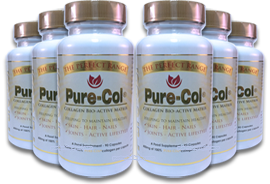 ✓ 400mg of pure-col collagen per capsule
✓ joints – active lifestyle
✓ skin – hair – nails
1 month £28.97 | 3 months £59.97 | 6 months £114.97